Health Insurance Exchanges Struggle with 24 Percent Youth Enrollment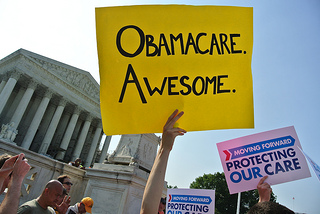 Adverse selection, which is the tendency for those who need insurance the most to come out in greater numbers when purchasing policy coverage, is a problem that all insurance companies face. These individuals typically cost more to insure, thereby driving up insurance rates.
A new report released on Monday from the U.S. Department of Health and Human Services revealed that there may not be enough healthy, young Americans signing up for policies through health insurance exchanges. Without an adequate number of low-risk enrollees, experts say Obamacare may struggle.
Demographics of Health Insurance Exchanges
Statistically, younger and healthier members cost less to insure, and their premiums help reduce health insurance rates for older, ill individuals. The healthiest enrollees within the health insurance exchanges are between ages 18 and 34, but according to the report, only 24 percent of new exchange enrollees were within this age group.
Some speculate that a reason for low enrollment numbers among young U.S. adults can be attributed to the fact that some 18- to- 26-year-olds may still be covered under their parents' health insurance plans.
On the other hand, approximately 33 percent of Obamacare exchange enrollees were between the ages of 55 and 64, the costliest group to insure.
Manhattan Institute scholar Yevgeniy Feyman tells FOX Business, that the Obama administration is "no longer saying they need 40% of the pool to be young and healthy—they're paring it back to 30%."
Obamacare Outreach Targeted at Younger Adults
To bring enrollment numbers up for the younger demographic, the administration plans to step up efforts to reach those in states covered under the federal website. Feb. 15 is the administration's National Youth Enrollment Day, targeting college students and others in the under-35 demographic.
Some of the information in the report may help attract more young people to the health insurance exchanges. For instance, four of five enrollees received help paying for their premiums.
Additionally, a young enrollee, Stacy Sylvain, described a positive experience enrolling in the program and qualified for federal payment assistance. Sylvain said, "Not having to worry about being uninsured and the what-ifs has made an incredible impact on my life."
Photo credit: Will O'Neill