Snake-Handling Pastor Dies Without Life Insurance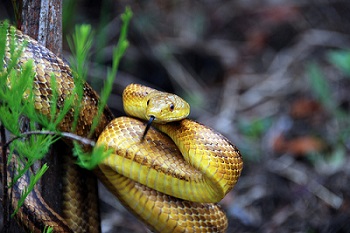 Pastor Jamie Coots, star of National Geographic's reality television show "Snake Salvation" had recovered several times in the past from snake bites received during his church service, but in a tragic incident during a Saturday service, the 42-year-old pastor was bitten and did not recover.
His family was left grieving as a result of the loss, and also learned that Coots did not have life insurance coverage at the time of his passing.
Zero Life Insurance is a Dangerous Lifestyle
Coots is a third-generation snake handler who sometimes used snake handling as a demonstration of faith during his Pentecostal services at Full Gospel Tabernacle in Jesus Name in Middlesboro, Ky. He refused treatment after the bite and passed away at home that evening.
On Sunday, the family announced in a Facebook post:
Brother Jamie did not have any insurance. Donations for his burial and his family can be mailed to: Linda Coots P.O. Box 2362 Middlesboro, KY., 40965 or Creech Funeral Home Linda Coots 112 S 21st St. Middlesboro, KY 40965. Phone number: 606-248-4700.
Snake Salvation was canceled after one season and Coots subsequently took a part-time job as a bus driver to get by. National Geographic released a public statement on Instagram:
The "devout religious convictions despite the health and legal peril he often faced" was what the television channel noted in its statement.
"Those risks were always worth it to him and his congregants as a means to demonstrate their unwavering faith," said National Geographic. "We were honored to be allowed such unique access to Pastor Jamie and his congregation during the course of our show, and give context to his method of worship. Our thoughts are with his family at this difficult time."
Affordable Life Insurance Rates for High-Risk Lifestyles
Although those who live dangerous lifestyles may pay more money for life insurance, the cost can be manageable. A person purchasing $250,000 of term life insurance may pay $625 more per year, due to a high-risk job or lifestyle. While some have questioned Coots' risky endeavors, there's is no arguing that the financial benefits of carrying life insurance can be a relief in the event of an unexpected accident.
Photo credit: U.S. Fish and Wildlife Service